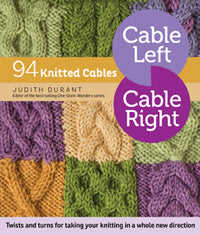 Cable Left Cable Right by Judith Durant
Regular price £11.99 Sale
A popular design element in many of today's garments and home dec items, as well as an iconic part of many
different knitting traditions, cables add drama and texture to knitted fabric. Cable Left, Cable Right takes the mystery
out of how to create and design them, for all levels of knitting skill.
Knitted cables, with their three-dimensional twists and turns, are a common element in lots of patterns -- but most patterns don't include directions for executing them. Cable Left, Cable Right, by expert knitter Judith Durant, eliminates the mystery with detailed, in-depth instructions for creating 94 different styles of cable, from perfectly plain to fantastically fancy. Close-up photos and clear instructions teach you the techniques you need, including design options like braids, diamonds, and pretzels so you can make your cables truly one-of-a-kind. This book is the perfect companion to any knitting pattern featuring cables, giving you the information and skills to make polished, beautiful, and unique cables for any project.