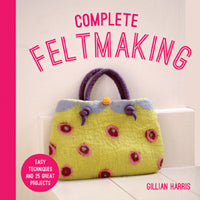 Complete Felt Making by Gillian Harris
A definitive guide to the craft of feltmaking advanced crafter and bestselling author Gillian reveals all the tips and tricks to make beautiful works of art. I love this book and refer to it all the time when felting as it covers Everything!

This exciting book covers all aspects of feltmaking, from making simple flat felt to felting 3D shapes, as well as felting knitted work, needle felting and some slightly more advanced techniques such as cobweb felting. Each technique is carefully explained in detail with step-by-step instructions and accompanied by several projects to keep you constantly inspired. From a cheerful polka-dot bag and cozy felted slippers to a whimsical mobile and heart-warming tea cosy, this spirited primer offers a range of projects for beginner and advanced felters.
Start with the basic technique then you will soon feel confident to tackle the more complex techniques in the advanced chapter. This book includes everything you need to bring the highly sought after handcrafted style of felt to your wardrobe and your home.