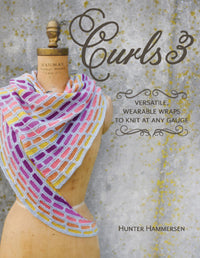 Curls 3 by Hunter Hammersen
Regular price £19.99 Sale
Curls are marvellously flexible, wearable wraps that work with any weight of yarn, can be knitted at any gauge, and look beautiful at any size. Knit them small and wear them as a cowl. Keep going to make a scarf. Do a bit more, and you've got a shawl. They form a wonderfully curved shape that drapes beautifully around your neck and shoulders and can be worn in lots of different ways. Use your favourite yarn, and knit at whatever gauge gives you the fabric you like best. You're in charge, you can't mess it up, and you're going to love the result.
Knitters will love this book. This is the third book of the series, and once again it is filled with some wonderful scarves, wraps and cowls.
11 projects that are designed to wrap, shape and drape, which are both beautiful and purposeful. The designs are stunning and can be dressed up or down depending on what colour and yarn is used. There is a brilliant 'Hints' section full of advice and along with some fabulous photography you can't help but be inspired.
Each design is accompanied with a chart, which allows you to see how the pattern is formed. The instructions are clear and precise and all sizes and gauge requirements are listed.