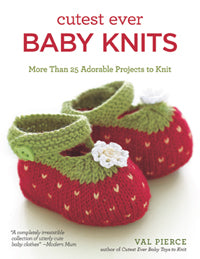 Cutest Ever Baby Knits by Val Pierce
A completely irresistible collection of knitting patterns for utterly cute baby clothes. These patterns will give great delight both to the knitter and to all who see the results on tiny new babies.
There are bootees that look like little strawberries, a baby bonnet in the shape of a crinoline skirt, a bumblebee set of hat and mitts and a cosy cot blanket that looks like a field of daisies. Hats, bootees, mitts, little coats and dresses: none of the patterns are complicated and many are suitable for complete beginners.
As well as cute clothes there are accessories for the nursery including a snuggly pram blanket, colourful applique sleeping bag and a gorgeous knitted mobile. Created with adorable newborns in mind, many of the projects can also be made to fit babies from 3 to 9 months. All of them are the cutest ever and will make fabulous gifts for favourite little loved ones.