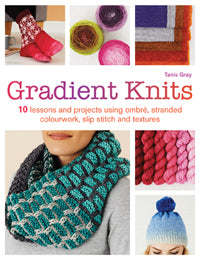 Gradient Knits by Tanis Gray
Regular price £12.99 Sale
Ten lessons and projects using ombré, stranded colourwork, slip stitch and textures. Are you intrigued by the stunning gradient yarns out there but unsure of what to knit with them? Perhaps you struggle with colour? Dive right in and knit with these eye-catching yarns with ten unique lessons teaching skills such as cabling, lace, alternating stripes, thrums, stranded colourwork, mosaic, intarsia, short rows and simple knit and purl combinations all using gradient yarns. Build up your skills with patterns for garments and accessories from designers around the world.
Gradients are a perfect way to add a unique dimension to your work. Go from light to dark, mix things up, work with multiple colourways or knit your way through the rainbow! With countless options available, the possibilities are as endless as what your imagination can create!
This book offers a blend of beginner through to advanced projects, allowing the knitter to build their skills with each project.
The latter part of the book comprehensively covers basic knitting techniques with clear instructions and photographs to illustrate. There are even illustrations to show the difference between English and Continental ways of holding yarn. Tinking (un-knitting) and frogging (ripping out) also get a mention, something you don't often see in how-to books but so very necessary! This book would be perfect for knitters who wish to increase their repertoire of skills and techniques. Having personally never come across thrumming, the mittens would be an ideal first project, whilst the lace shawl would be the perfect way to show off a single-gradient yarn ball. Either for yourself, or as a gift combined with a ball of gradient yarn, this book would be a good addition to your collection.