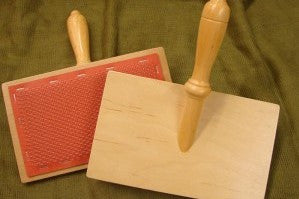 Hand Carders
Regular price £44.50 Sale
These carders have handles which are easy to grip as they are nice and chunky, making them much easier to use. The handles are also set an angle which also improves usability and helps you to avoid scraping your knuckles on the card cloth.  A three ply woven cotton foundation with rubber facing gives the desired support to the wires and flexibility. They are strong and beautifully made.
The 72 point wire is sutable for all wool fibres and most animal hairs.
Please Note: The card cloth wire has a light coating of oil to lubricate it during manufacture. This is normally so light that it is not noticeable. Sometimes the application has been a little more and it can show on the wool. We suggest that you initially use the carders with some "waste" wool just to make certain the wire is cleaned off.
  350gms / 22cm x 12cm overall size. Carding surface 18cm x 9cm 
* Backs made from birch ply, for lightness and strength.
* Balanced to give a light easy action. 
* Covered in 72 point card cloth with 3 ply rubber back for durability.   
* Wire is 25 Carder Wire Gauge. Over the last 40 years this has been found to be the optimum wire for best handcarding results. 
These carders are made from stainless steel wire which will never rust.