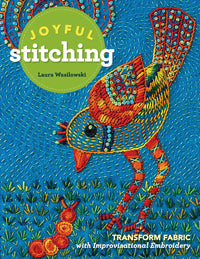 Joyful Stitching by Laura Wasilowski
Regular price £16.99 Sale
Joyful Stitching, a very apt title as the cover of the book makes you smile and want to look further. The book is full of colour photos that show every stage of creating the many samples illustrated. As it says on the cover with this book you can learn how to 'transform fabric with improvisational embroidery' and have a lot of fun in the process. 
The detail given about the materials, threads and stitches is very clear, excellent for a beginner but not too distracting for the more experienced embroiderer. 
Stitch on wool, felt, or silk and enjoy the simple pleasure of stitching. The author also uses a lot of variegated skeins which adds a lot of the liveliness. With fun projects, this book is very accessible to beginners and terrific even for advanced embroiderers who want to simplify and rev things up with a lot of colour.
'This latest title from textile artist Laura is a feast of colour. A delightful book suitable for all abilities.' East Kent Embroiderers' Guild Newsletter
Dive into Laura's delightful world of embroidery and learn how to create small, free-form embroidery pieces that are alive with colour and texture.
With instructions for 21 basic embroidery stitches and 6 projects, all in Laura's signature colourful, whimsical style, you'll transform a flat, plain surface into a joyful, design-packed art piece. Includes a gallery of display ideas, as well as additional ideas for using free-form stitching.