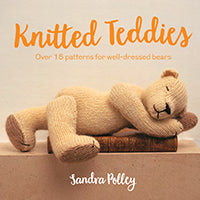 Knitted teddies by Sandra Polley
From miniature teddies to teddies reminiscent of collector's items of the 1940s and 50s, Knitted Teddies has patterns to knit more than fifteen gorgeous bears, ranging in style and size. With options for serious teddy afficionados; for bears with their own wardrobe of clothes; and even fully jointed bears.
With easy-to-follow instructions and clear diagrams showing how to sew up, thread-joint, and create the perfect gift or heirloom, this is the perfect book for the experienced knitter or a keen beginner. Dress your bear in style with wardrobes including jackets, vests, cardigans, dresses, dungarees, scarves and hats. Learn how to build on the patterns given to create many other variations, including 'old' bears that have been loved and left in the attic, character teddies and mascots. Making an heirloom for your loved ones to cherish for years to come has never been so easy!