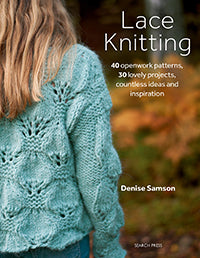 Lace Knitting by Denise Samson
Regular price £14.99 Sale
This beautiful lace knitting reference book has over 40 patterns and 30 projects to make. Teri is terrified and fascinated by lace knitting so this is a great ease-your-way-in for her. If you feel the same way, this may also be your cup of tea.

Lace knitting is striking and eye catching and as it looks complicated can appear daunting. Denise Samson's helpful and comprehensive book is perfect for crafters with some experience under their belts who want to take their knitting to the next level.
There 40 openwork patterns, introduced to you step by step, with full-colour photographs, charts and instructions to guide you, from the deceptively simple to the beautifully intricate. Or try out your favourite lace stitches with one of 30 delightful, stylish designs - including cushions and throws, socks and hats, garments for children and adults, and even a handy bookmark! It's everything you need to master openwork, in one complete package.