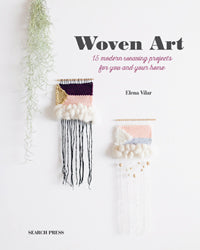 Woven Art by Elena Vilar
Regular price £14.99 Sale
Learn how to create 15 beautiful contemporary woven designs and accessories by beloved French blogger Elena Vilar of Deer Jane.
The ancient craft of weaving has long been recognised for its humble, practical beauty and meditative qualities: while creating gorgeous decorative projects, you can also reflect and relax through the repeating motions of yarn winding over the loom. By following easy-to-follow instructions, learn how to create 15 woven masterpieces with a modern twist. The illustrated techniques section at the beginning of the book to master the basics before you delve into Elena's simple yet sophisticated designs. Discover how to make a cardboard loom, thread a shop-bought loom, dye wool using natural dyes, make homemade jersey yarn, wind pompoms and more.
Essential weaving methods are explained through each project, starting with a simple, beautiful wall hanging in the basic stitch through to a dream catcher made with braids, soumak and rya knots. Create unique and beautiful designs by incorporating a range of materials, fabrics and imaginative embellishments. In addition, each project includes handy tips and advice to help and inspire you on your weaving journey.